Certainly, and you may have faced it once; The first and most confusing part when it comes to purchasing a new computer – whatever the purpose of acquiring it – is choosing the most appropriate CPU, and for most of us; Intel processors seem to be the direct or default choice – at least at first glance – although AMD is doing well in the last period, and Intel competes, and may even outperform it at times! But in general, the most confusing thing remains is the choice between the different types of Intel processors, which are in fact very many!
The basic conditions for choosing between types of Intel processors
There are two main factors that you will always encounter in this field; The first factor is the clock speed, which is measured in gigahertz (GHz), and indicates the number of operations the processor can perform each second, and the higher that number, the faster the computer (when equivalent comparisons), and you will notice the difference upwards by increasing that speed when opening Programs, files and media export.
The second factor that you will encounter is the number of cores; Typically, laptop and desktop chips contain two or four cores, so the processor is dual-core or quad-core, and some newer models have up to six or eight cores.
The larger the number of cores, the better the performance, as this allows the computer to run several tasks at the same time without slowing down, and the user will feel the addition provided by the cores in the event of working on many programs at once, such as those that require opening or running many tabs Like a large number of webpages running on your web browser.
Types of Intel processors
Atom processors
Intel Atom processors are low-power processors designed for use in laptops and other networked computers, where battery life and power consumption are more important than computing capabilities.
There are many types of Atom processor, as processors whose name does not contain a letter before the assigned number are specially designed for low-power devices in general.
Whereas processors with the N-prefix are designed for Notebook computers, on the other hand, Atom processors designed for portable Internet devices have a Z-prefix, and the number following the name of the base processor indicates the processor level, with higher numbers indicating greater computing capabilities.
Celeron processors
Celeron processors are primarily designed to run lower-end computers, which are primarily intended for web activities and basic computing tasks.
Like its predecessor, Celeron processors include a digital naming scale or index; The higher the number, the more features and capabilities the processor offers.
The Celeron lineup includes different types of processors, including those specifically customized to meet the needs of low-power computing.
Pentium processors
The word Pentium has been used as a name for several different generations of processors, and the current generation of these processors are dual-core processors, with energy-saving features, designed for desktop computers.
And of course; Pentium processors include numerical definitions indicating their gradient levels and capabilities, just like all Intel processors.
Not all Intel Celeron and Pentium processors offer Hyper-Threading or Turbo Boost features – which are explained later in this article – and typically include an integrated Intel HD 510 graphics processor, with the exception of the Pentium G4500 series processors that include a GPU Slightly faster Intel HD 530.
Core 2 Duo processors
Beginning with the well-known model from the Core family; The Core 2 Duo processors are multi-core processors that include a number of letter indicators, each of which indicates different groups of processors, as follows:
QX stands for high performance quad-core processor.
X stands for dual core, high-performance processor.
Q stands for a quad-core processor, for desktop use.
E stands for dual-core unit dedicated to power consumption considerations.
T stands for portable processing unit, with energy saving characteristics.
P stands for portable processing unit, with a minimum power consumption of T.
L stands for ultra-low power consumption portable processing unit.
U stands for the lowest power consumption in the Core 2 family.
S stands for Small Character Process Package.
Each of these alphabetical indicators is followed by a number, and those numbers indicate the number of features and the level of performance.
Intel Core i3, i5, and i7 processors
Here, things enter a realm of confusion, and a bit of ambiguity wraps the usual naming patterns from Intel for the performance and features provided by each processor, so be sure to carefully review the processor model in your computer, as that may make a very big difference!
For example, any computer classified as a Core i5 processor can have a number of different possible specifications such as Core i5-7400, Core i5 7600K, Core i5 7300U, Core i5-7500HQ, Core i5-7400T, Core i5 7Y57 and many more. The same is true with the i3 and i7 chipsets as well.
Key points
At the basic level; The Intel Core i7 processors are better than the Core i5, which in turn is better than the Core i3, but the dilemma lies in knowing the level of performance expected within the processors of each category, so we must delve a little bit to understand.
first and foremost; The i7 is by no means a seven-core processor! The same applies to the i3, i5, and i9, but these are just labels indicating the relative performance of these processors.
Typically, Core i3 series contain only dual core processors, while Core i5 and Core i7 series contain dual and quad core processors, all in all; Quad-core is better than dual, and these days, most Intel processors are dual-core, quad-core, or eight-core.
Denoting of the letter suffix in the Core i family
The thing that is worth noting here is that the suffix that is often composed of four digits – except for the Y in the middle sometimes – is what defines the main character of the processor, its rank and its performance, according to the following:
The suffixes for desktop processors
Without any suffixes: The standard processor mode for a desktop computer, with four cores and a high clock speed, guarantees excellent daily performance, high-speed video and photo editing capabilities.
T-suffix: It is found on smaller desktop and AIO computers (All In One). From a functional point of view; These processors are similar to the previous ones without a suffix, and have the same number of cores, but with a slower clock speed. For example; The Core i7-6700 processor has a power consumption (TDP) of 65 watts, with a base frequency of 3.4GHz, and a boost frequency of 4.0GHz, while the Core i7-6700T processor has a lower power consumption of 35 watts, but with a frequency Main at 2.8GHz and booster up to 3.6GHz.
K suffix: the processor that provides the highest performance you may find in the market, it looks similar to the model without the subsequent, but in general with a higher clock speed and more energy consumption, and for those with experience and knowledge in the technical field, this model is available with the ability to overclock (OverClocked).
Suffix E: The letter E means Embedded, and indicates that the CPU comes with a pre-installed motherboard system, which can be ignored anyway.
P-suffix: For older Core 2 models, the P-series refers to processors that do not include any integrated graphics processing unit (GPU), today it refers to CPUs with slower GPUs.
Special suffixes for laptop processors
U suffix: abbreviation for Ultra, low power consumption Intel processors. These chips often contain two cores, since the newer models now have four cores, and they are among the slowest processors that carry the marking of Core I. These chips are often found on inexpensive AIOs and on many laptops. It may be a bit suitable for editing photos and videos, but it tends to be much slower with the tasks of exporting files to disk, so if you are looking for hardware to edit images, you should choose Core i5, or try to expand your choice towards i7.
HQ suffix: It generally comes in powerful laptops, and usually comes with four cores, which is an ideal choice when it comes to editing videos and photos, but it may drain the battery very significantly.
HK suffix: only one processor per generation in this class of laptop processors; This includes Core i7-6820HK, Core i7 7820HK, and Core i7-8820HK, which are overclockable, quad-core processors.
Y in the middle: With a Y in the middle of the suffix, you are in front of the least energy-consuming chip that can be found. It is not really suitable for editing photos or videos, but it is more suitable for light tasks, and perhaps the most prominent feature with choosing one of this model's processors is to get significantly good performance for light tasks, with longer battery life, in general; Laptops equipped with this type of processor tend to have a design that lacks a cooling fan, which means that they are quite quiet, and very thin as well.
Processor generation numbers
Another complication that you may encounter with types of Intel processors when choosing one of them; Every period, the company launches new groups or families of segments called generations, for example; The 2018 release is the eighth generation series, which is called Kaby Lake Refresh, and so each family has its own context of the Core i3, Core i5 and Core i7 series of processors.
You can identify which generation the processor belongs to by the first number in the four-digit model name, which you can find immediately after the sign or the small line (-). For example, the Intel Core i3-8250 processor belongs to the eighth generation.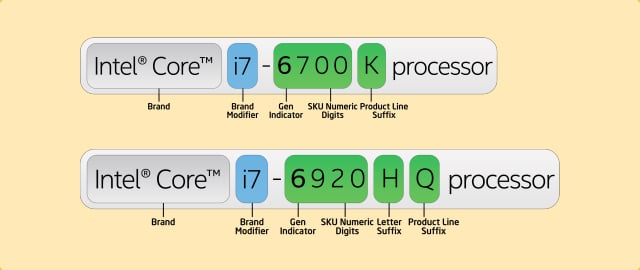 For more knowledge and experience, the other three numbers refer to Intel's own evaluation of how the processor compares to other processors within the same line of processors. For example: The Intel Core i3-8145U processor is better than the Core i3-8109U because 145 numbers are greater than 109.
Here is another example, where the Core i5-7200U processor is a seventh-generation processor with two cores, with a maximum speed of 3.1GHz, while the Core i5-8250U is an eighth generation processor, including four cores, and its maximum speed is 3.4GHz.
This arrangement makes a big difference when choosing, for in the eighth generation and its subsequent successions, the U-type processors come with four cores instead of two, so if you have a choice between a seventh-generation processor and another from the eighth, and there is a slight difference in price, the choice of the latest model is The best option.
The Plus suffix (+)
In April 2018, Intel announced the Intel Core i3 +, i5 +, and i7 + processors, and this new naming convention appears when an Intel Optane SSD is installed on the computer.
Optane works to know the files and programs that you use a lot and intensively, and transfer them to a high-speed SSD disk to get better performance, and of course the user does not have to manage this by himself, but it is done automatically, and it does not affect at all the location of the files on the computer disks.
Hyper-Threading System
At the basic level; Physical Cores largely determine the speed of the processor, but given the workings of modern CPUs, it is possible to obtain an increase in speed by using virtual cores (Virtual Cores), which are activated through a system called Hyper-Threading Technology.
In its simple sense, hyper-threading allows a single physical core to act as two virtual cores, thus performing multiple tasks simultaneously without activating the second physical core that requires more system power.
If both cores are active and use Hyper-Threading mode, the computing capabilities of those four virtual cores will perform faster.
However, it should be noted that the physical cores are faster than the virtual cores, and the physical quad-core CPU offers much better performance than the physical dual-core CPU with Hyper-Threading.
Intel Core i3 processors support Hyper-Threading, as well as Intel Core i7 processors, but Intel Core i5 series processors do not support this, and several reports indicate that Intel may abandon the Hyper-Threading system of all processors except for the Core series i9 fastest.
Turbo Boost feature
Intel Core i3 series processors do not support Turbo Boost, while Core i5 processors use this mechanism to speed up tasks, and so do Core i7 processors.
Turbo Boost is Intel's proprietary technology that adopts smart increase in processor clock speed if the application requires it; For example, if you are running a game and your system requires more capabilities, Turbo Boost technology will compensate in this area.
Turbo Boost technology is a useful solution when running resource-intensive programs such as media editing programs or video games, but it does not have a significant impact if the user's activity is limited to browsing the web and using the Microsoft Office software package.
Types of Intel Core M processors
A somewhat special model of Intel processors includes three classes; They are Core m3, Core m5, and Core m7, all of which are dual-core processors, with Hyper-Threading system and Turbo Boost technology, 4MB cache memory, Intel HD 515 graphics processor, and they differ from each other in terms of frequency that starts from 2.2GHz on the Core m3 processor , Down to 3.1GHz on Core m7.
Intel Xeon and Itanium processor types
Intel Xeon and Itanium processors are server-class central processing units (CPUs), designed and customized to run various server applications.
These processors contain three levers:
The X stands for high-performance processors.
The letter E stands for the unit dedicated to the features.
The letter L denotes processing to take account of energy consumption.
There are three levels of Xeon processors; The 3000 series processors contain a single core, the 5000 series processors contain two cores, while the 7000 series processors contain more than two cores.
As for the 9000 series processors, it refers to the Itanium category, which may contain two or more cores, and accordingly; The higher numbers in each series indicate more features offered by the processor.